TOMATO & ROAST CAPSICUM PANZANELLA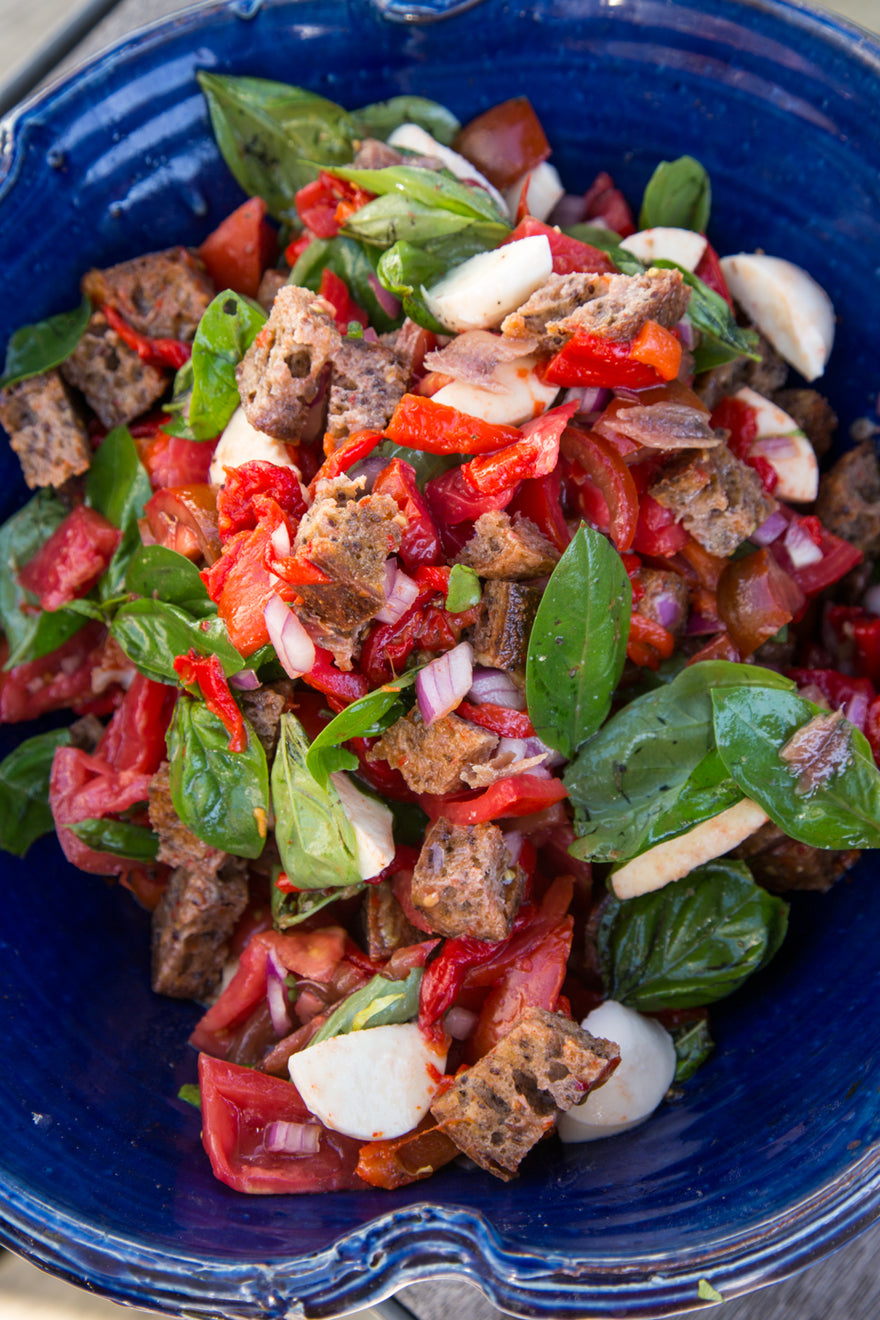 TOMATO & ROAST CAPSICUM PANZANELLA
A great classic salad, which celebrates the abundance of tomatoes and capsicums in the summertime. We used Wild Wheat's beautiful quinoa seeded sourdough loaf in this salad but any artisan made sourdough loaf will be just as delicious.
Serves 6 to 8
SALAD 
6 - 8 CAPSICUMS
OLIVE OIL
300g (approximately ½ a loaf) SOURDOUGH LOAF, cut into small bite sized chunks
A pinch of SALT and freshly GROUND BLACK PEPPER
1 kg mixed HEIRLOOM TOMATOES, halved, core removed, cut into bite sized chunks
1 RED ONION, peeled, finely diced
5 - 6 ANCHOVY FILLETS, roughly chopped
125g BOCCONCINI, balls cut in half
1 cup (40g) FRESH BASIL LEAVES
DRESSING
2 tbsp OLIVE OIL
2 tbsp SHERRY VINEGAR
1 tbsp MAPLE SYRUP
½ tsp
SALT
and freshly
GROUND BLACK PEPPER
Preheat oven to 200°C.
Place the capsicums on a baking tray; rub a little olive oil all over them. On a second baking tray place the cut sour dough, drizzle with olive oil and season with salt and pepper. Place the 2 trays into the oven and roast for 20 - 30 minutes or until the capsicums are well roasted and the sourdough croutons are crispy.
Remove from the oven and place the capsicums into a plastic bag. Tie a knot in the top to stop hot air escaping. Set aside for 10 minutes to allow them to sweat, this makes peeling the capsicums much easier. Remove the capsicums and slice them in half, removing the stem and seeds. Peel and discard the skin. Slice the capsicums into strips.
In a large serving bowl combine the roasted capsicums, tomatoes and onion with the anchovies. In a small bowl whisk together all the ingredients for the dressing. Pour the dressing over the salad and mix until well combined. Mix through the sourdough croutons, bocconcini and basil leaves when you are ready to serve.
---