CHOCOLATE CHERRY CHEESECAKE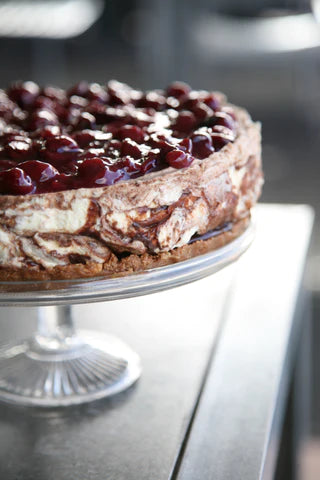 CHOCOLATE CHERRY CHEESECAKE
Serves 12
BASE
200g CHOCOLATE DIGESTIVE BISCUITS
75g BUTTER, melted
FILLING
300g CREAM CHEESE, softened
½ cup (70g) ICING SUGAR
1 tsp VANILLA EXTRACT
ZEST of 1 LEMON
1 tsp LEMON JUICE
250ml CREAM
TOPPING
1 x 700g jar MORELLO CHERRIES, drained and reserve ½ cup of juice
1 tbsp CORNFLOUR
¼ cup (50g) CASTER SUGAR
2 tbsp LEMON JUICE
DARK CHOCOLATE shavings to garnish (optional) 
Grease and line a 20cm springform cake tin.
In a food processor bowl, pulse the biscuits until they begin to turn into crumbs. Add the melted butter and pulse again until the mixture starts to stick together. Press the mixture in to the tin and set aside.
In a large bowl, place the cream cheese, icing sugar, vanilla extract, lemon juice and beat until smooth.
In another large bowl whip the cream until soft peaks have formed. Fold the cream cheese mixture into the whipped cream and pour onto the prepared biscuit base. Smooth the top gently with a spatula. Cover and refrigerate overnight to set.
To prepare the topping: in a small bowl mix together 1 tablespoon of the reserved cherry juice with the cornflour. Pour in to a small saucepan and add the cherries, remaining juice, caster sugar and lemon juice.
Place the saucepan over a high heat and bring to the boil. Reduce the heat and simmer until the mixture thickens, approximately 10 minutes, stirring occasionally. Remove from the heat and refrigerate until cool.
When ready to serve, run a warm knife around the edge of the cheesecake to release it from the tin and remove.
Pour the cherry compote over the cheesecake, garnish with dark chocolate shavings and serve immediately.
---