NOURISHING TURMERIC CARROT & COCONUT SOUP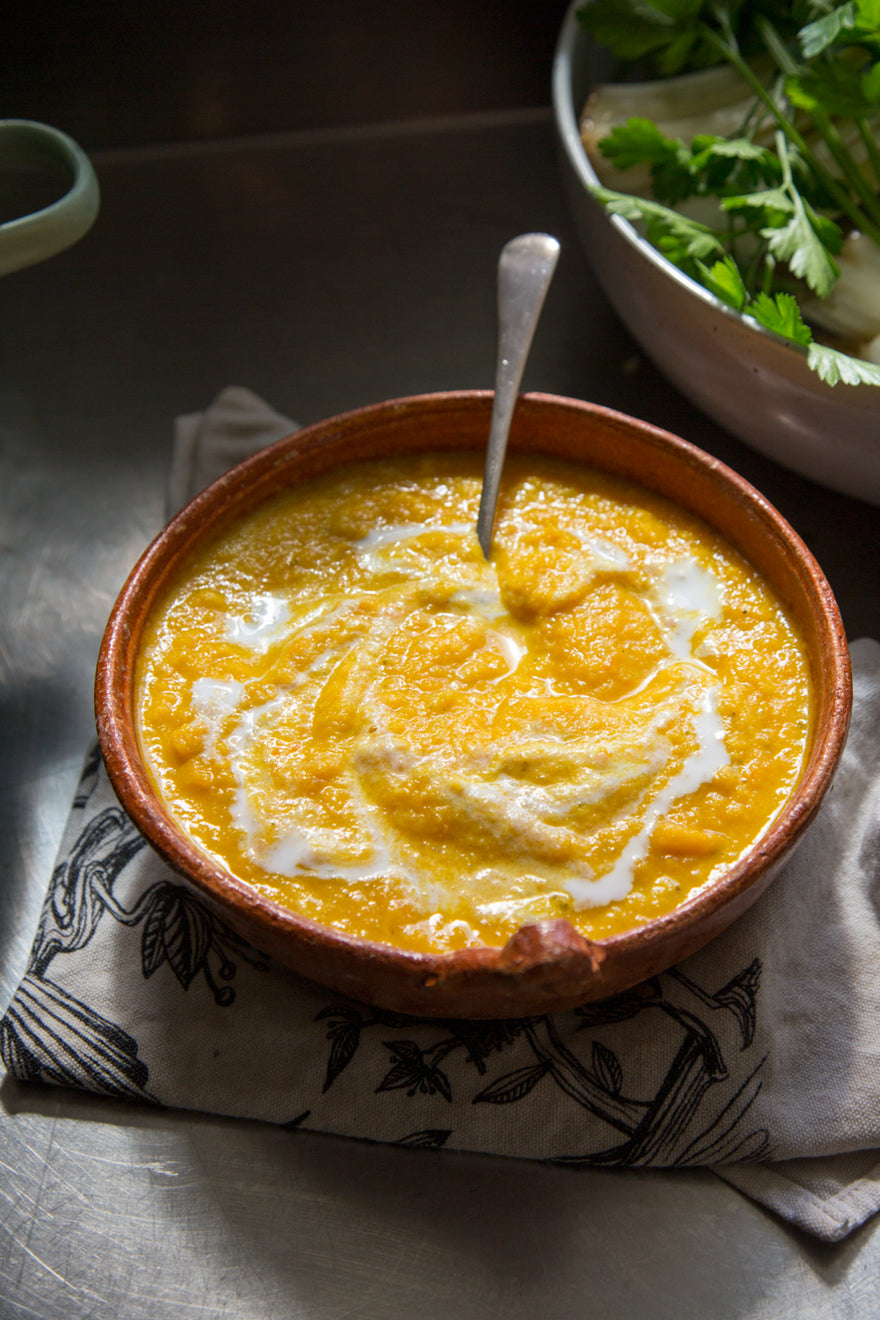 Nourishing Turmeric, Carrot, Lime + Coconut Soup
Serves 4 to 6
This soup is loaded with all the good stuff to help you get through the winter months & aids the immune system to prevent colds and sniffles.
3 tbsp COCONUT OIL
1 ONION, peeled, roughly chopped
4 cloves GARLIC, peeled, crushed and roughly chopped
2 tbsp FRESH GINGER, grated
1 – 2 FRESH RED CHILLIES, finely chopped (or 1 tsp of dried)
2 tsp FRESH TURMERIC, grated (or 1 tsp turmeric powder)
6 KAFFIR LIME LEAVES, roughly chopped
6 CARROTS, peeled, roughly chopped
2 SWEDES, peeled, roughly chopped
1 tbsp COCONUT SUGAR or RAW SUGAR
1 tsp SALT
1 lt VEGETABLE STOCK or BROTH 
2 cups (500ml) WATER
JUICE of 1 LIME
1 cup (250ml) COCONUT CREAM
Place a large stockpot over a medium heat; add the coconut oil, onion, garlic, ginger, chilli, turmeric and kaffir lime leaves. Fry for a few minutes stirring often. Add the carrot, swede, coconut sugar, salt, vegetable stock and water.
Cook for 30 minutes or until the vegetables are tender and cooked through. Remove from the heat. Stir through the lime juice and using a stick blender, blend until smooth. Stir through the coconut cream and season to taste.
---