THE RICHIE BROWNIE RECIPE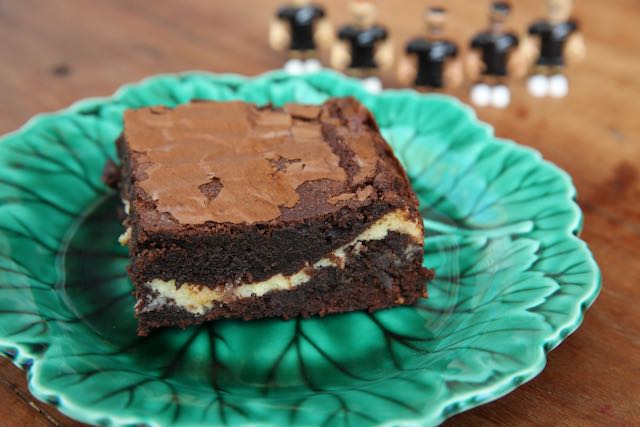 The Richie Brownie is legendary slice we created and named after a very special All Black. This brownie has been a long-standing favourite at Ripe, we have been serving it up for nearly 15 years!! The Richie Brownie is from our Ripe Recipe Book – A Third Helping
BROWNIE INGREDIENTS
300g
UNSALTED BUTTER
, diced
300g
DARK CHOCOLATE BUTTONS
6
EGGS
2 cups (440g)
CASTER SUGAR
1 tsp
VANILLA EXTRACT
1 ¼ cups (190g)
PLAIN FLOUR
1 cup (100g)
COCOA Powder
FILLING
1 ½ cups (300g)
CREAM CHEESE
1 ¼ cups (200g)
WHITE CHOCOLATE
1 Tbsp
VEGETABLE OIL
INSTRUCTIONS
Preheat oven to 180°C.
Grease and line a 20 x 30cm high-sided slice tin with baking paper.
Melt the butter and chocolate together by either: placing the butter and chocolate into a heatproof bowl, placed over a saucepan of simmering water on a medium heat. Alternatively, use your microwave; melt the chocolate and butter together on a high heat, in short bursts of 20 – 30 seconds for a minute or so until just melted. Stir until well combined, set aside to cool a little.
In a large mixing bowl using a whisk or a handheld electric beater, whisk the eggs, sugar and vanilla together for a few minutes until thick and creamy.
Sift the flour and cocoa powder over the egg mixture. Using a large metal spoon stir until smooth and glossy. Stir through the melted chocolate mixture until it is just combined. Note: don't over mix it – that is the downfall of many a brownie!
Melt the cream cheese, white chocolate and oil together using one of the methods mentioned above. Using a whisk or handheld electric beater, mix until well combined and smooth.
Pour half of the chocolate brownie mixture into the slice tin. Dollop large spoonfuls of the cream cheese mix onto the brownie. Carefully spread the cream cheese out until it covers the brownie. Pour the remaining brownie mixture over the top. Carefully spread the brownie mixture over the top so it covers the white chocolate layer. If this is too fiddly you can just marble brownie mixture through the white chocolate.
Place in the oven to bake for 35 - 45 minutes, or until just starting to set in the middle and a glossy crust has formed. Remove from the oven and allow to cool in the tin for at least an hour before cutting.
 Love the Ripe Team. 
---