TAMARILLO & CINNAMON ALMOND POLENTA TART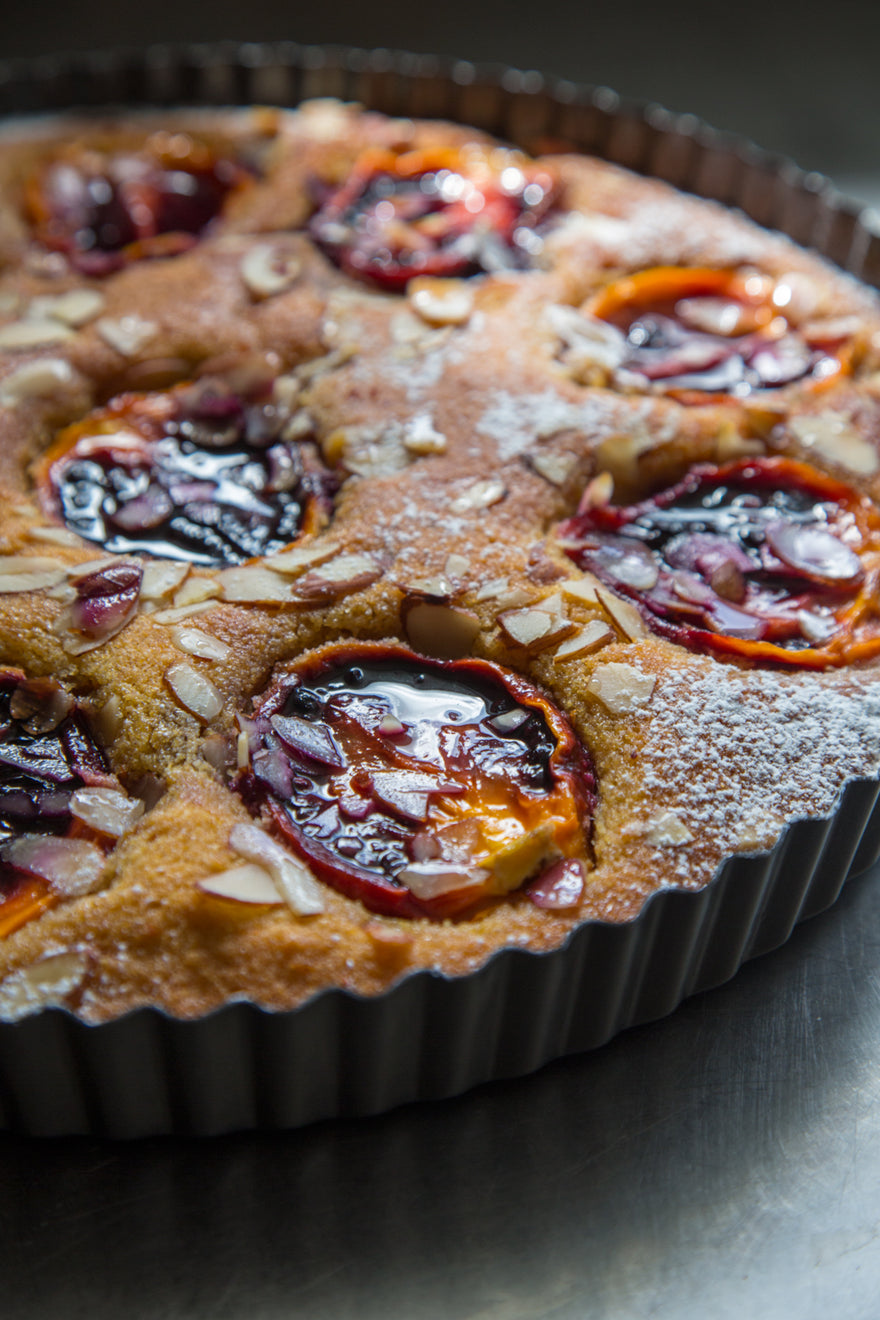 TAMARILLO & CINNAMON ALMOND POLENTA TART
Amy Melchior created this moist, light, gluten-free tart. When tamarillos are out of season, stone fruit such as plums or tart berries such as blackberries or cherries are a lovely substitute. 
(gf)
Serves 12
220g UNSALTED BUTTER softened              
1 cup (220g) CASTER SUGAR
2 tsp VANILLA EXTRACT
3 EGGS
ZEST and JUICE of 3 large MANDARINS or 1 ORANGE
2 cups (200g) GROUND ALMOND
1 cup (140g) FINE POLENTA
1½ tsp CINNAMON
1½ tsp BAKING POWDER
5 TAMARILLOS halved and flesh scooped out
¼ cup (20g) FLAKED NATURAL ALMONDS
1 tbsp MAPLE SYRUP or HONEY
ICING SUGAR for dusting
 
Preheat oven to 160°C.
Grease a 30cm fluted tart tin and line the base with baking paper.
 
Using an electric handheld beater or cake mixer, cream the butter, sugar and vanilla together until light and fluffy.
 
Beat the eggs, one at a time into the creamed mixture. Scraping down the inside of the bowl after each addition. Add the zest and juice of the mandarins or orange. Blend until well combined, it will curdle a bit but that's fine.
 
In a small bowl, combine the ground almonds, polenta, cinnamon and baking powder. Add the almond mixture to the creamed mixture. Beat until well combined.
 
Spread the mixture into the tin. Place the tamarillos on top, don't press the tamarillos down into the mixture otherwise the cake will rise up and cover them. Sprinkle over the flaked almonds. Bake for 40 - 45 minutes.
 
Remove from the oven and leave to cool for 10 minutes before removing the tart from the tin. Drizzle the maple syrup or honey over tamarillos and dust with a little icing sugar. Best served warm with natural yoghurt.
 
---