Smoked Eggplant Hummus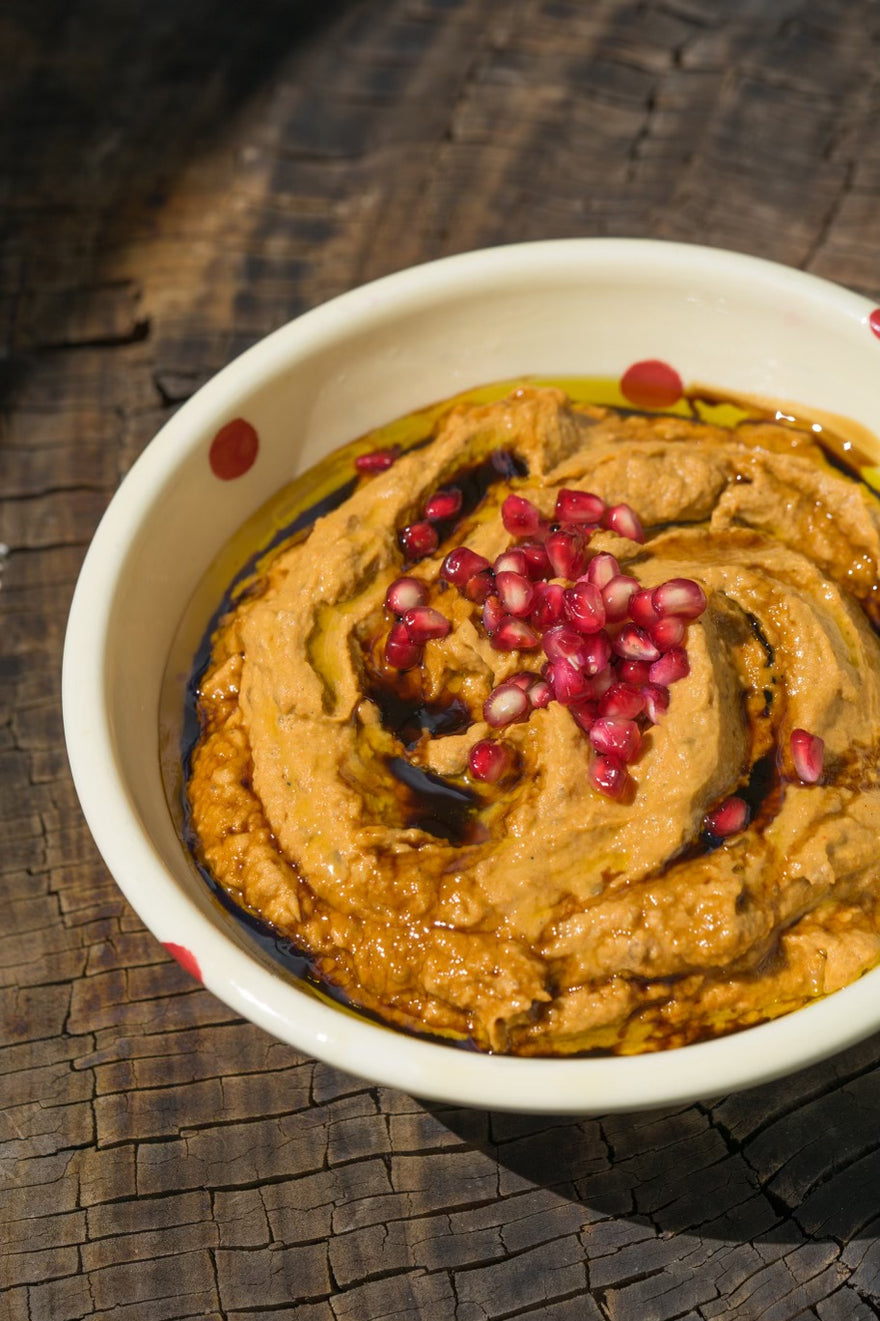 Smoked Eggplant Hummus
Makes 3 cups
DF, EF, GF, NF, VEGAN
Samantha created this smoked eggplant hummus to go with her Hummus Salad. It's also delicious as a dip served with pita crisps or crudités, or we just like to eat it by the spoonful.
1 large or 2 small EGGPLANT
1 x 400g can CHICKPEAS, rinsed and drained
2 tbsp TAHINI
2 cloves GARLIC, crushed and roughly chopped
JUICE of 1 LEMON
2 tsp SMOKED PAPRIKA
2 tsp GROUND CUMIN
1 tsp SALT
¼ cup (60ml) OLIVE OIL + some for drizzling TO SERVE
Garnish with POMEGRANATE MOLASSES, SUMAC and a sprinkle of POMEGRANATE SEEDS (optional)
To prepare the eggplant: preheat the oven to 200°C and line a baking tray. Place the whole eggplant on the prepared baking tray and cook for approximately 30 minutes or until softened.
Next you need to char the skin of the eggplant until it is smoky and blackened. You can do this either on the grill of a barbeque over a naked gas flame, or under the grill in your oven. Turn the eggplant regularly with tongs to blacken all sides. When cool enough to handle, remove the stem, peel off the charred skin and discard. Roughly chop the eggplant flesh.
To prepare the hummus: using a food processor, blend the chickpeas until smooth. Add the smoked eggplant, tahini, garlic, lemon juice, spices and salt. Blend for a few minutes until well combined, then with the motor running slowly add the oil, blending until smooth. If the hummus is a little thick add a tablespoon or two of hot water and blend again. Adjust the seasoning to taste.
To serve: place in a serving bowl and drizzle over the pomegranate molasses and some olive oil and sprinkle with sumac and pomegranate seeds.
---