PUMPKIN, RICOTTA, HERB AND PINENUT PIE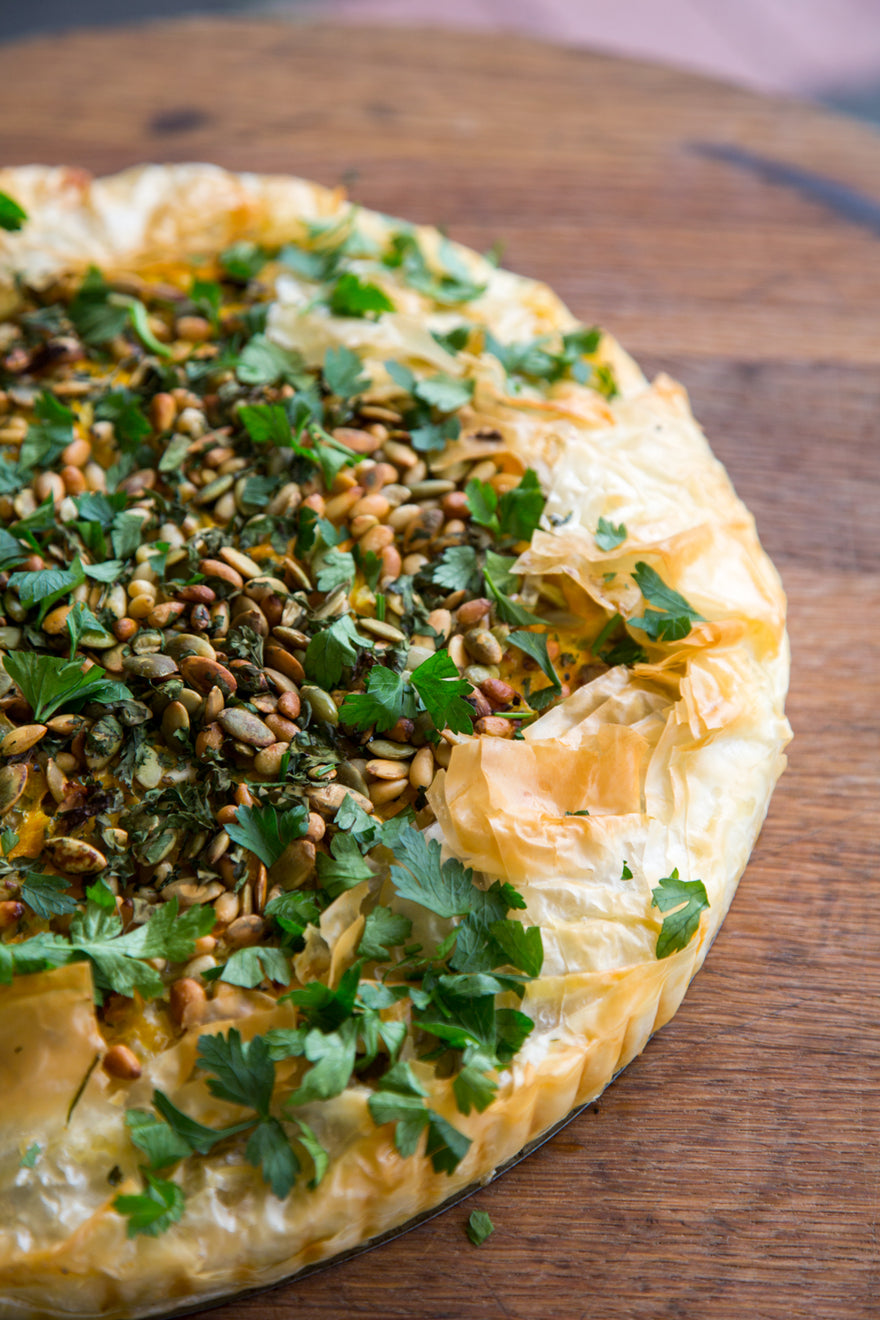 PUMPKIN, RICOTTA, HERB AND PINENUT PIE
A delightfully easy pie. In the summer months replace the pumpkin with courgettes.
(Vegetarian)
Serves 12
2 tbsp OLIVE OIL
2 ONIONS, peeled and finely diced
1½ tbsp DRIED OREGANO
4 cloves GARLIC, peeled, crushed and finely chopped
2 tsp SALT
½ tsp freshly GROUND BLACK PEPPER
4 large EGGS
250g RICOTTA
200g FETA, crumbled
800g PUMPKIN, peeled and grated (you want about 4½ cups)
½ cup (20g) FRESH CURLY PARSLEY, finely chopped
50g BUTTER
1 packet (375g) FILO PASTRY
½ cup (20g) BREAD CRUMBS
¼ cup (40g) PINENUTS
¼ cup (40g) PUMPKIN SEEDS
Preheat oven to 180°C.
Place a large frying pan over a medium heat and add the olive oil. When hot add the onions, oregano, garlic, salt and pepper. Fry for a few minutes until the onions are translucent. Remove from the heat and set aside to cool.
In a large mixing bowl, whisk the eggs, ricotta and feta together. Add the pumpkin, parsley and onion mixture. Mix until well combined.
Melt the butter and lightly grease a 30cm fluted tart tin. Lightly butter 3 sheets of filo. Place one on top of the other. Repeat this process 4 times, so that you end up with 4 piles of filo sheets.
Lay the filo sheets into the tart tin so the base and sides are covered with filo. You want to end up with some of the filo hanging over the edge.
Sprinkle the breadcrumbs over the base and add the pumpkin mixture. Sprinkle the top with the pinenuts and pumpkin seeds. Fold the sides of the filo so it covers some of the pie.
Bake for 45 - 50 minutes, until the pie is cooked through and the filo is golden. Remove from the oven and allow to cool before cutting.
---