Pea Mint & Feta Fritters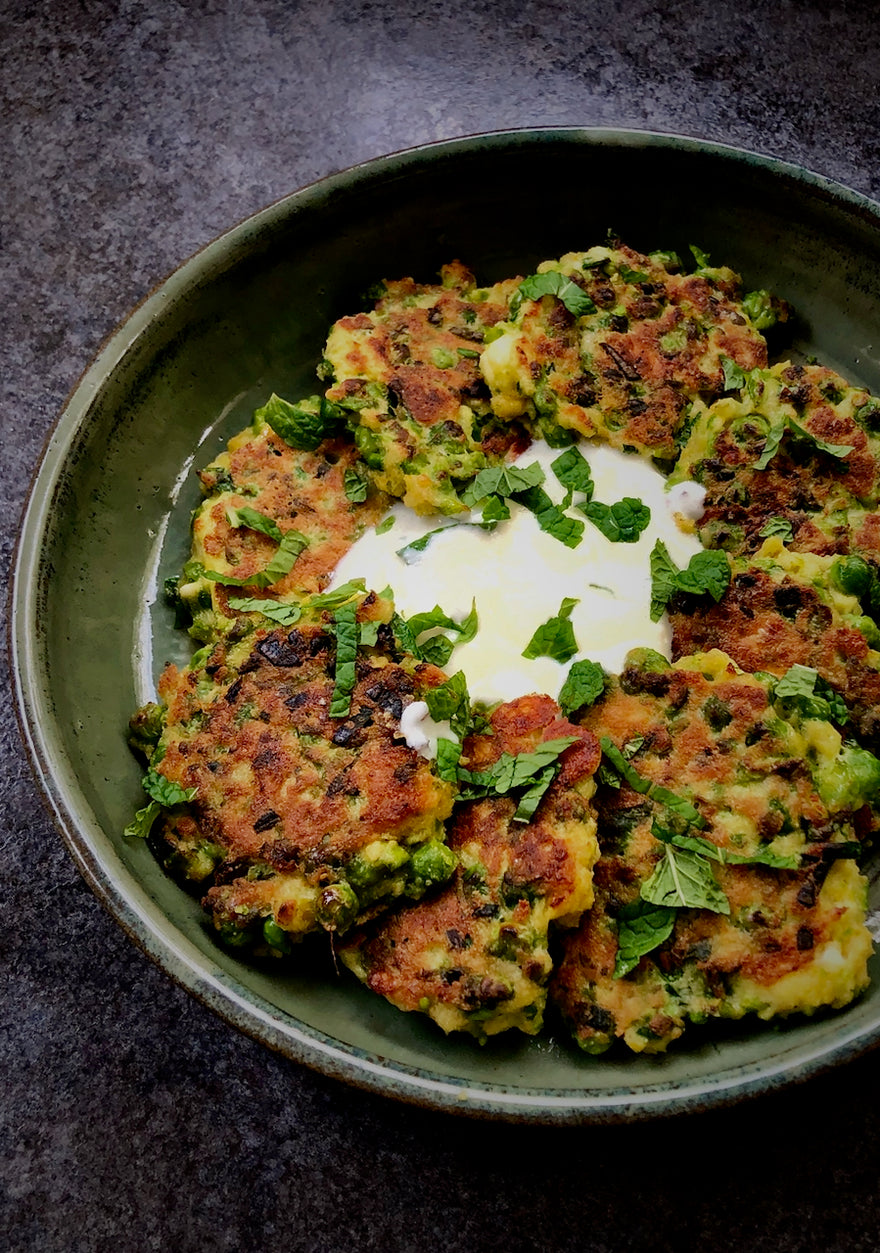 PEA, MINT & FETA FRITTERS
Fantastic as finger food, or make larger ones for more substantial servings.
Makes 25-30 small fritters. 
PEA FRITTERS
400g PEAS, fresh or frozen
5 EGGS, separated
2 SPRING ONIONS, very thinly sliced
2 tbsp FRESH MINT LEAVES, roughly chopped
100g FETA, crumbled
ZEST of 3 LEMONS
½ tsp GROUND CUMIN
1 cup (80g) FRESH BREAD CRUMBS
2 tsp BAKING POWDER
OLIVE OIL, for shallow frying
1 cup FRESH MINT LEAVES, to serve 
CITRUS DIPPING SAUCE
250g CRÈME FRAICHE
2 tbsp PLAIN UNSWEETENED YOGHURT
JUICE of 1 LEMON
1 clove GARLIC, crushed
1 tbsp FRESH MINT LEAVES, finely chopped
SALT and freshly GROUND BLACK PEPPER 
To prepare the fritters:
bring a large saucepan of water to the boil and cook the peas for 3-4 minutes or until tender. 
Drain and mash coarsely using a fork or potato masher. 
In a large bowl, whisk egg yolks until frothy 
Add to the egg yolks the mashed peas, spring onions, mint, crumbled feta, lemon zest, cumin, bread crumbs. baking powder and salt and pepper to season. Stir to combine. 
In a clean, dry bowl, whisk the egg whites until soft peaks form. Fold whites gently into the pea mixture in three batches until just combined. 
In a large frying pan, heat 1/2 cm of oil to a medium heat and shallow fry heaped tablespoons of the mixture for 1 minute each side or until golden brown 
Line an oven tray with baking paper and keep the fritters warm in a low oven (150°C) while frying the remaining mixture. 
Serve with the citrus dipping sauce and plenty of fresh mint leaves. 
To prepare the citrus dipping sauce:
place all the ingredients into a bowl. Mix well to combine. Season to taste with salt and pepper and keep in the fridge until needed.
---