Oaty Ginger Crunch Slice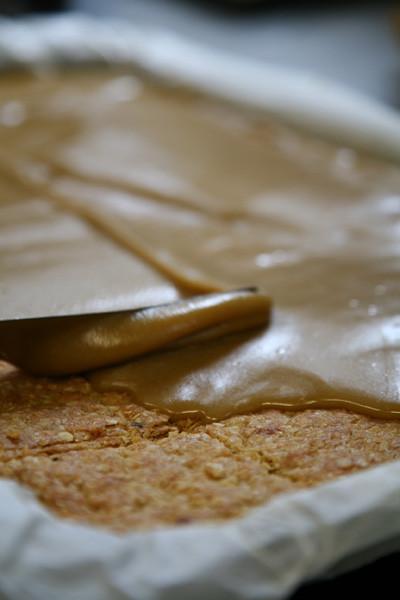 Oaty Ginger Crunch Slice
 
Base
200g UNSALTED BUTTER
3 Tbsp GOLDEN SYRUP
1 cup (160g) SOFT BROWN SUGAR
1 cup (100g) DESICCATED COCONUT
2 cups (200g) ROLLED OATS
1 cup (150g) PLAIN FLOUR
2 tsp BAKING POWDER
2 tsp GROUND GINGER
 
Topping
2 cups (320g) ICING SUGAR
150g UNSALTED BUTTER
4 Tbsp GOLDEN SYRUP
2 Tbsp GROUND GINGER
 
Preheat oven to fan-bake 170°C. Grease and line a 20 x 30cm slice tin with baking paper.
To prepare the base: in a saucepan over a low to medium heat melt the butter, golden syrup & brown sugar. Stir constantly until combined & all the sugar has dissolved.
In a large bowl combine the coconut, rolled oats, flour, baking powder & ginger. Pour the melted butter & golden syrup mixture over. Mix until well combined.
Press into the lined slice tin & bake for 20 minutes or until nice & golden. You want the base to be quite dark if you like your ginger crunch nice & crunchy!
Remove from the oven & using a bread knife, mark into squares, not quite the whole way through. Do this when the base is still warm, as it's easier to cut at this stage. Allow to cool.

To prepare the topping: over a low heat, melt the golden syrup & butter together in a saucepan, stirring constantly. Remove from the heat.
Sift the icing sugar & ginger into the saucepan. Using with a wooden spoon or whisk, beat the topping until smooth. Spread with a spatula over the cooled base while the icing is still hot.
 
Allow the slice to cool on the bench. Once cool, gently break the pieces apart. Store in an airtight container.
---