GINGER KISS SLICE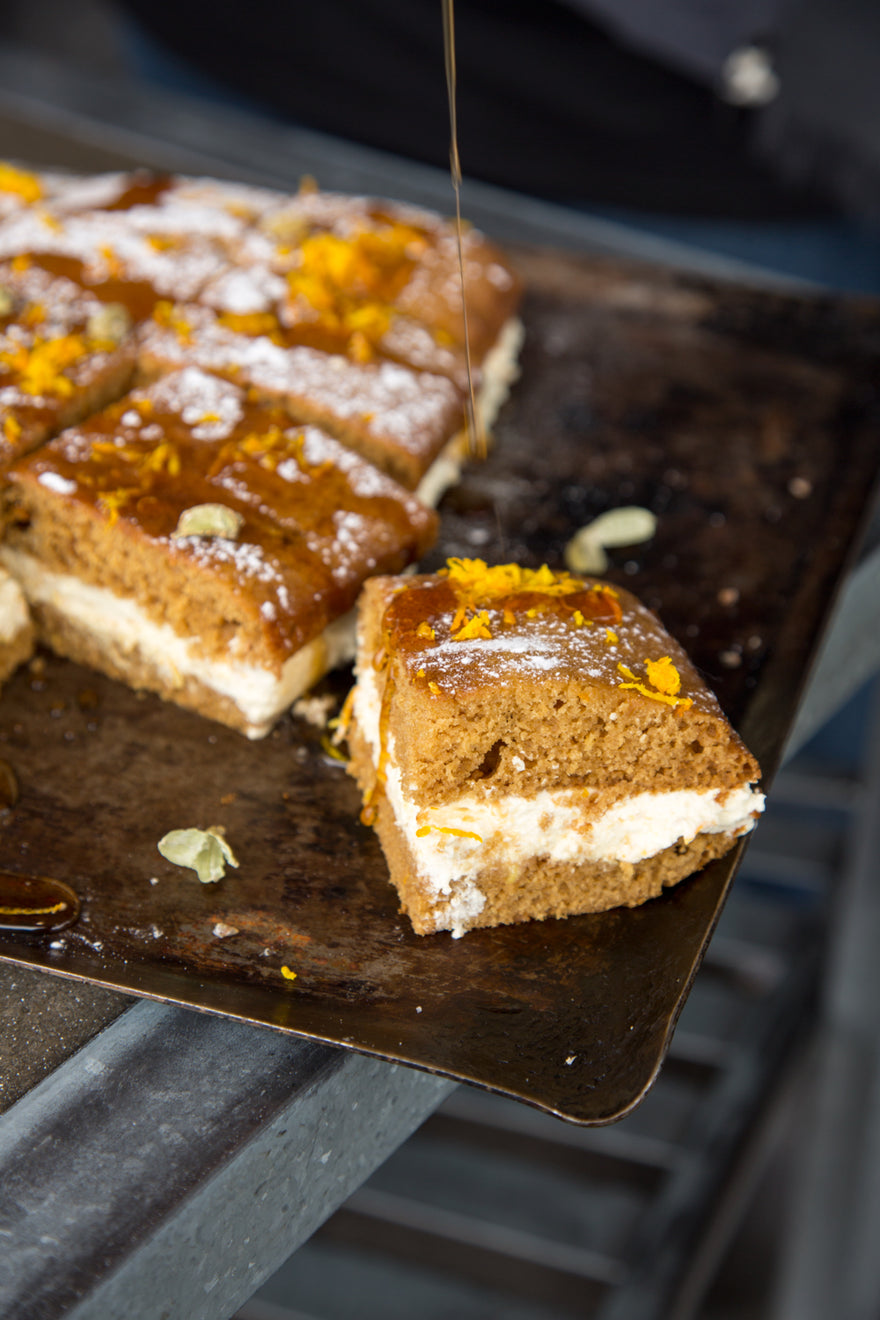 LYNN'S GINGER KISS SLICE
A lovely twist on a kiwi favourite. Lynn Colbert created this light and sweetly spiced ginger kiss slice. Lynn also makes this slice with a lime and cream cheese filling which is equally as delicious.
Serves 10 to 12 
SPONGE
1 cup (150g)
PLAIN FLOUR
½ cup (80g)
SELF-RAISING FLOUR
¾ tsp
BAKING SODA
2 tsp
GROUND GINGER
½ tsp
GROUND CARDAMOM
(or seeds of 6 pods, crushed)
½ cup (80g) soft
BROWN SUGAR
100g
UNSALTED BUTTER
¾ cup (260g)
GOLDEN SYRUP
+ extra for drizzling
1 tbsp
ORANGE ZEST
4cm piece of
FRESH GINGER
2
EGGS
¾ cup (180ml)
MILK
FILLING
300ml
FRESH CREAM
, cold
1 tsp
ORANGE ZEST
¼ tsp
GROUND
CARDAMOM
(or seeds of 3 pods, crushed)
¼ cup (40g)
ICING SUGAR
+ extra for dusting 
Preheat oven to 180°C to fan bake.
Grease and line two 20 x 30cm slice tins with baking paper. 
To prepare the sponge:
in a mixing bowl sift together the flours, soda and spices. Add the brown sugar and mix until well combined. 
Place the butter, golden syrup and orange zest in a small saucepan. Place over a low heat and melt together, stirring until well combined. 
Remove from the heat and set aside to cool a little. Grate the ginger and using your hand squeeze the juice of the grated ginger into the butter mixture - discard the flesh. 
In a small bowl, lightly whisk the eggs and milk together. Make a well in the middle of the flour mixture. Pour the butter mixture, and then the egg mixture into the flour. Stir until just combined. 
Divide the batter evenly between the two slice tins. Place in the oven to bake for 10 - 12 minutes, until the sponge is springy to the touch. Remove from the oven; allow to cool a little in the tin before turning out onto a wire rack. Cool the sponge cakes completely before filling. 
To prepare the cream filling:
place the cream in a metal mixing bowl. Using an electric handheld beater or whisk, beat the cream until it is just starting to thicken. Add the orange zest, cardamom and icing sugar, whip until the cream holds its shape. 
Note:
the cream filing can be refrigerated until you are ready to assemble and serve the slice. 
To serve:
place one of the sponge cakes onto a serving platter. Spread the cream filling evenly over the sponge. Place the second sponge cake on top. Dust with icing sugar and drizzle over a little golden syrup when serving.
---