EMMA'S CHILLI CON CARNE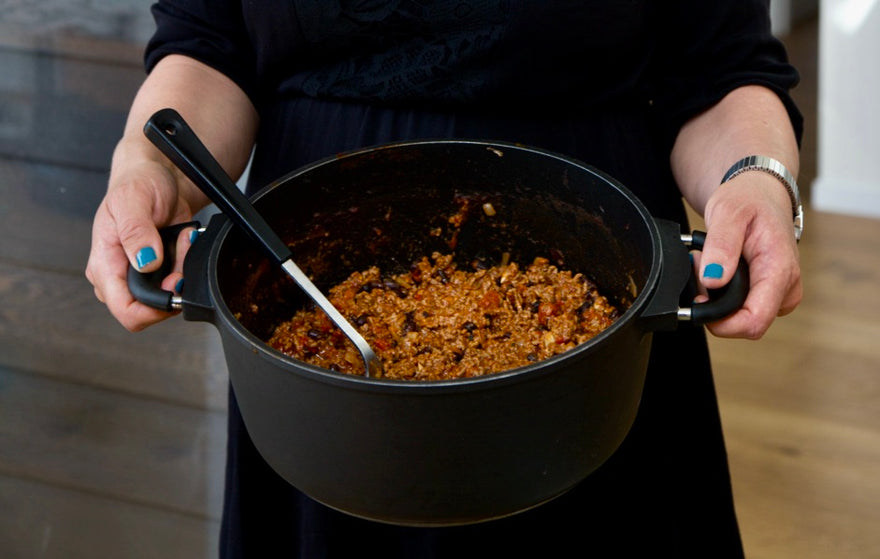 Emma's Chilli Con Carne
This is a lovely recipe was given to me by my friend Emma Rasile. The secret to a great chilli is the long and slow cooking time. Emma finds cooking chilli therapeutic, "the method and the result are good for the soul". Try to use fresh herbs if you have them, as the flavour is more aromatic.
(gf, df)
Serves 4 to 6
4 tbsp OLIVE OIL
1 ONION, peeled, finely diced
4 cloves GARLIC, peeled, finely chopped
2 tsp FRESH THYME (or 1 tsp DRIED THYME)
2 tsp FRESH OREGANO (or 1 tsp DRIED OREGANO)
1 tsp each of GROUND CUMIN, GROUND CORIANDER, GROUND GINGER
2 tsp PAPRIKA
1kg PRIME BEEF MINCE
3 tbsp TOMATO PASTE
1 tbsp WORCESTERSHIRE SAUCE
2 x 400g cans DICED TOMATOES
1½ tsp SALT and freshly GROUND BLACK PEPPER
1 x 400g can BLACK BEANS or KIDNEY BEANS
1 tsp CHILLI FLAKES and/or CAYENNE PEPPER, optional, see note below
Place a large flameproof casserole dish over a medium heat; add 2 tbsps of the olive oil, along with the onions, garlic, herbs and spices. Cook for 5 minutes stirring often, until the onions are translucent. Transfer the onions into a small bowl. Add the remaining oil to the casserole dish and when hot add the mince. Cook for 5 minutes breaking up the mince while it is cooking, to ensure its evenly browned brown.
Add the onion mixture back into the pan, and then stir through the tomato paste, Worcestershire sauce, diced tomatoes and salt and pepper. Cover with a tight-fitting lid and reduce the heat to as low as possible. Simmer for 40 minutes, stirring every now and then. If the sauce starts to catch at all add a dash of hot water.
Then add the beans and simmer for 10 minutes longer or until the beans are heated through and the sauce has reduced.
To make it hot:
once you've fed the little kids or those who don't like chilli, it's time to make it hot! Stir through some Cayenne Pepper and/or Chilli flakes; 1 teaspoon of each gives it a good kick!
To serve:
Emma's Chilli Con Carne is delicious served with rice or tacos. Little side dishes of guacamole, salsa, fresh chopped coriander and yogurt or sour cream make it the perfect meal. For little kids Emma serves the chilli with grated carrot, cheese, iceberg lettuce, avocado and tacos.
---