DARK CHOCOLATE SPICED ANZAC BISCUITS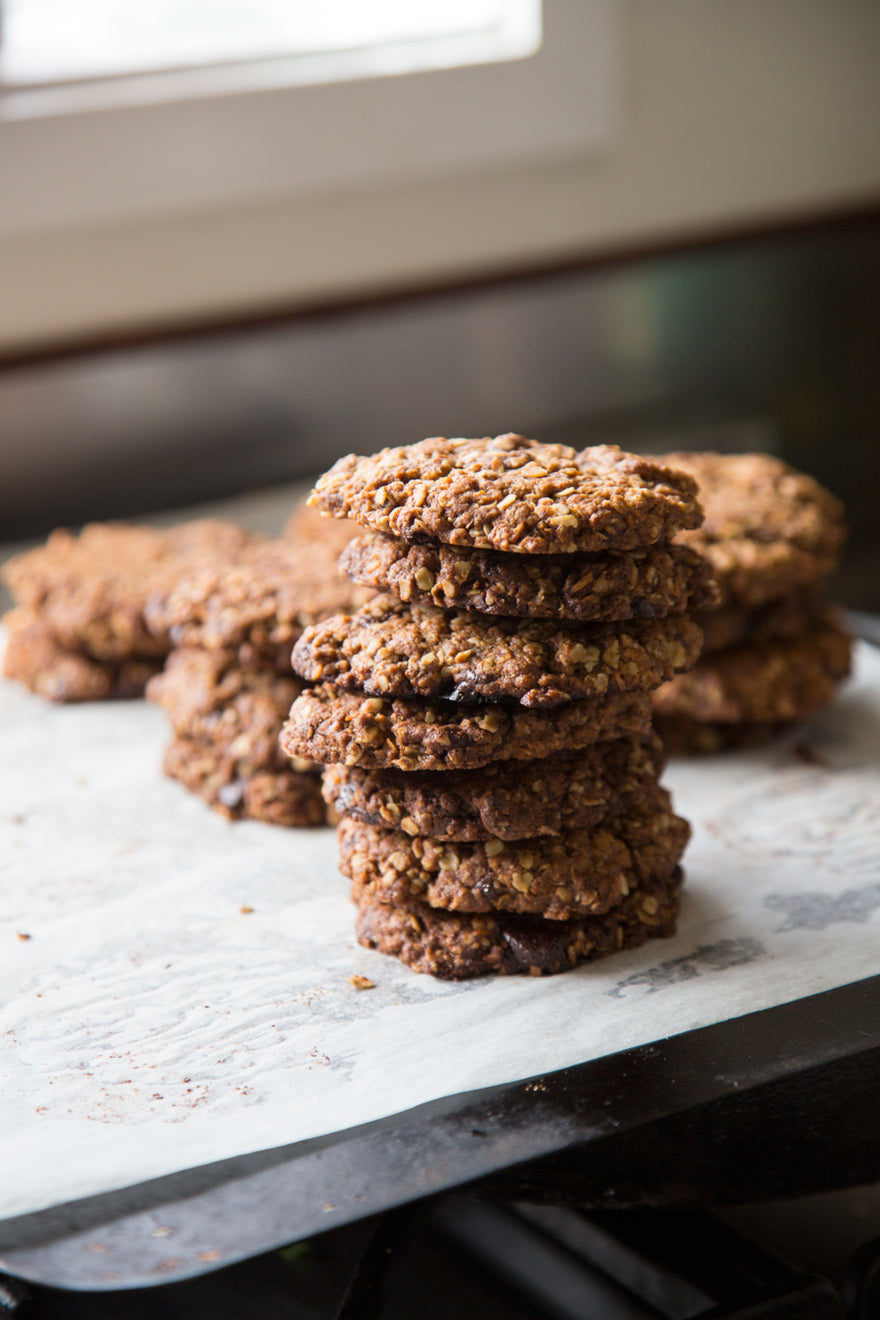 DARK CHOCOLATE SPICED ANZAC BISCUITS
Anzac biscuits are a traditional kiwi biscuit; we've added rich dark chocolate and sweetly scented spices to tickle your taste buds. We tested a few different versions of this biscuit, but this recipe was the winner, as every time we made a batch the biscuits were all gone as soon as they were out of the oven.
Makes approximately 20 biscuits
 
1 cup (150g) PLAIN FLOUR
1½ cups (150g) QUICK COOK ROLLED OATS
½ cup (50g) DESICCATED COCONUT
¾ cup (120g) soft BROWN SUGAR
A pinch of SALT
½ tsp GROUND CINNAMON
½ tsp GROUND CARDAMOM
½ tsp GROUND GINGER
½ tsp GROUND ALLSPICE
¼ cup (60ml) WARM WATER
1 tsp BAKING SODA
160g UNSALTED BUTTER, roughly diced
1½ tbsp BLACKSTRAP MOLASSES or TREACLE
1 tsp VANILLA EXTRACT
100g good quality DARK CHOCOLATE (we use Whitakers dark Ghana), chopped
 
Preheat oven to 180°C.
Line 2 baking trays with baking paper.
 
In a large mixing bowl, add the flour, oats, coconut, brown sugar, salt and all the spices. Mix until well combined. In a small bowl mix the warm water and baking soda together.
 
In a saucepan, add the diced butter, molasses and vanilla. Place over a medium heat and melt together, stirring constantly. Remove from the heat and pour the baking soda mixture into the hot butter, stir well.
 
Note: the baking soda will react with the hot butter mixture and foam up so have your dry mix close at hand.
 
Pour the wet mix into the dry mix and stir well to combine. Let the mixture cool for a minute before stirring through the dark chocolate. Roll the mixture into walnut sized balls. Place on to the prepared trays and flatten them well with the palm of your hand. Make sure there is enough space for them to spread during cooking.
 
Bake for 10 – 12 minutes. Remove from the oven and allow to cool for a few minutes on the tray before transferring them to a wire rack to cool completely. Store in an airtight container.
---