CUCUMBER WITH ROASTED NECTARINE & SMOKEY PAPRIKA ALMONDS SALAD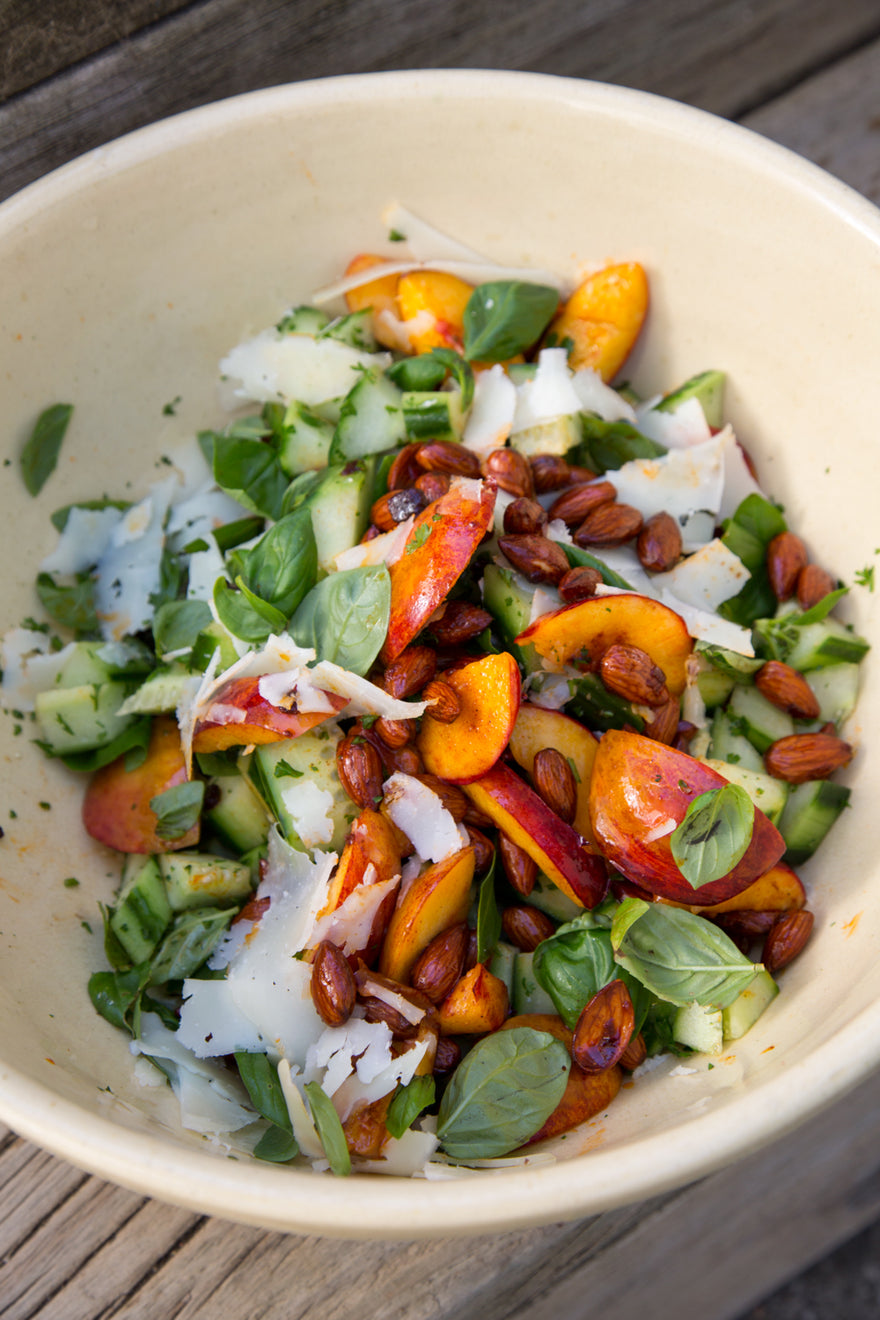 CUCUMBERS WITH ROASTED NECTARINE AND SMOKEY PAPRIKA ALMONDS
A winner of a salad. Lovely looking and super easy to make, filled with summer flavours.
Serves 6 to 8
2 tbsp OLIVE OIL
2 tsp SMOKED PAPRIKA
2 tsp SALT
2 tsp MAPLE SYRUP (or HONEY)
1 cup (120g) NATURAL ALMONDS
4 NECTARINES cut into wedges
2 TELEGRAPH CUCUMBERS, peeled, seeds removed, diced into bite size pieces
2 tbsp SHERRY VINEGAR
¼ cup (10g) CURLY PARSLEY, finely chopped
½ cup (20g) BASIL LEAVES
20g IBERICO or PECORINO CHEESE, shaved
Preheat oven to 200°C.
Line a baking tray with baking paper.
In a small bowl mix the olive oil, paprika, salt with the maple syrup (or honey). Add the almonds and mix until they are well coated. Pour the spiced almonds on to the prepared baking tray and bake for 10 minutes.
Then add the nectarines and give the tray a good shake so the nectarines get coated in the paprika mix too and cook for 5 minutes longer. Remove from the oven and set aside to cool a little.
To serve:
mix the cucumbers, sherry vinegar and herbs in a large serving bowl; add the almonds, nectarines and cheese, tossing gently to combine.
---