Amy's Dhal Fry - Red Lentil Dhal Tadka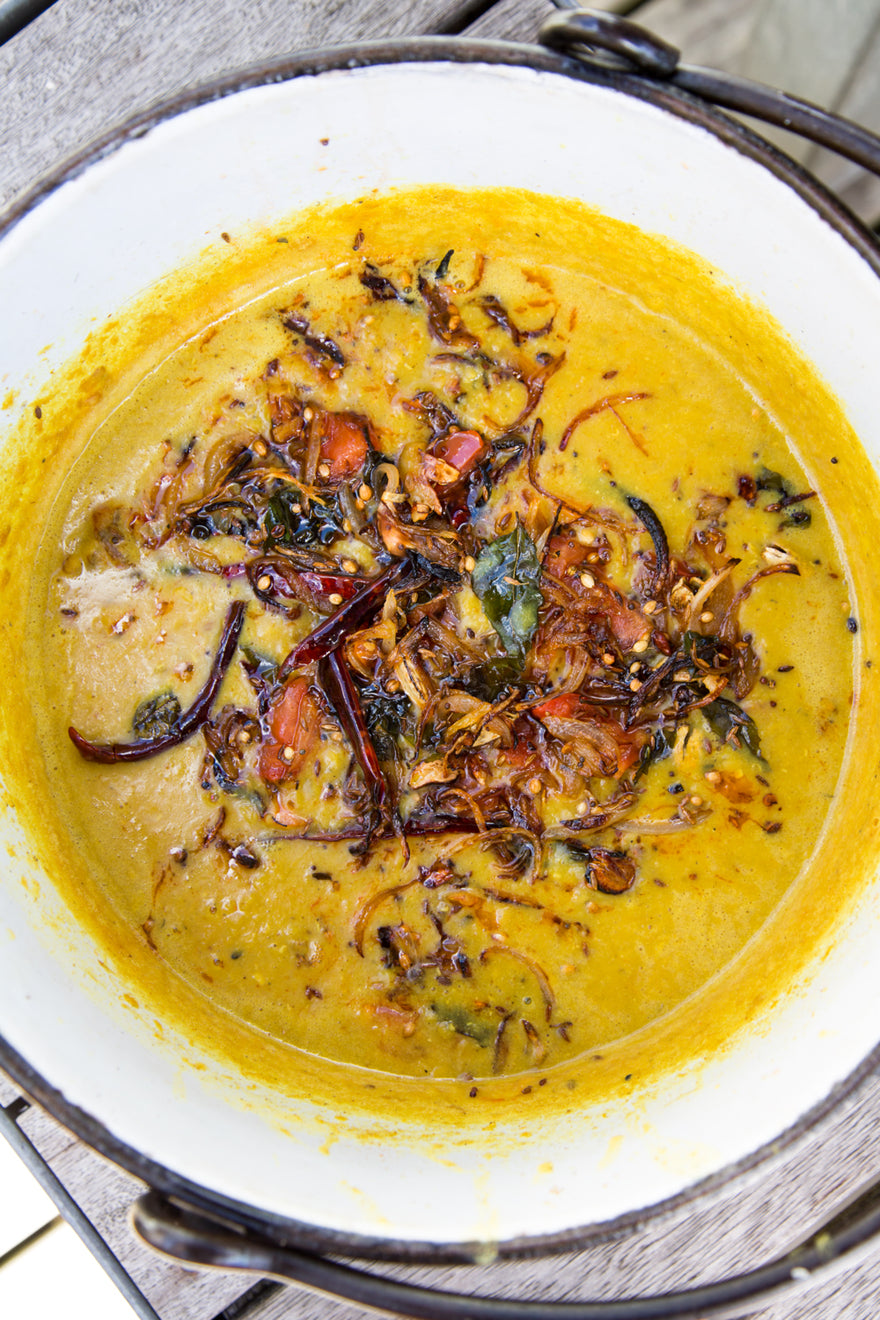 RED LENTIL DHAL
2 tbsp COCONUT OIL
1 ONION, peeled, diced
1 tbsp GINGER, grated
3 cloves GARLIC, peeled, crushed and finely chopped
1 tbsp good quality CURRY POWDER – we use MADRAS CURRY POWDER        ½ tsp TURMERIC POWDER
2 cups (400g) SPLIT RED LENTILS
8 cups (2 lt) WATER
2 tsp SALT       
TADKA – FRIED SPICE TOPPING
3 tbsp COCONUT OIL
1 ONION, peeled, thinly sliced
3 cloves GARLIC, peeled, lightly smashed (see note below)
A pinch of SALT
3 RED CHILLIES DRIED or FRESH, sliced in half (optional)
3 vine ripened TOMATOES, cut into wedges
1 tsp CORIANDER SEEDS
2 tsp CUMIN SEEDS
6 CARDAMOM PODS, lightly crushed in the pod
½ tsp BLACK MUSTARD SEEDS
8 CURRY LEAVES
To prepare the dhal: place a heat-proof casserole dish or large pot over a medium heat. Add the oil, onion, ginger and garlic. Fry for a few minutes until the onion has softened. Add the spices and lentils; cook for a few seconds, stirring constantly. Add the water then bring to the boil.
When boiling, reduce the heat to a gentle simmer and cook for 25 – 30 minutes or until the lentils are starting to disintegrate. Remove from the heat and stir in the salt. Cover and set aside while you make the tadka.
To prepare the tadka: lightly smash the garlic using the flat side of a knife, or in a mortar and pestle, then sprinkle the garlic with the salt. Place a wok or frying pan over a high heat and add the oil. When hot add the onion and fry until crispy. Add the rest of the ingredients and fry, stirring often until the mustard seeds start to pop. Remove from the heat.
To serve: place the dhal into a serving bowl and pour the tadka over the top of the dhal. Serve with chapattis or roti.
Winter | Ripe Recipes – A Third Helping
---