ALMIGHTY EGGPLANT WITH SUMAC SALAD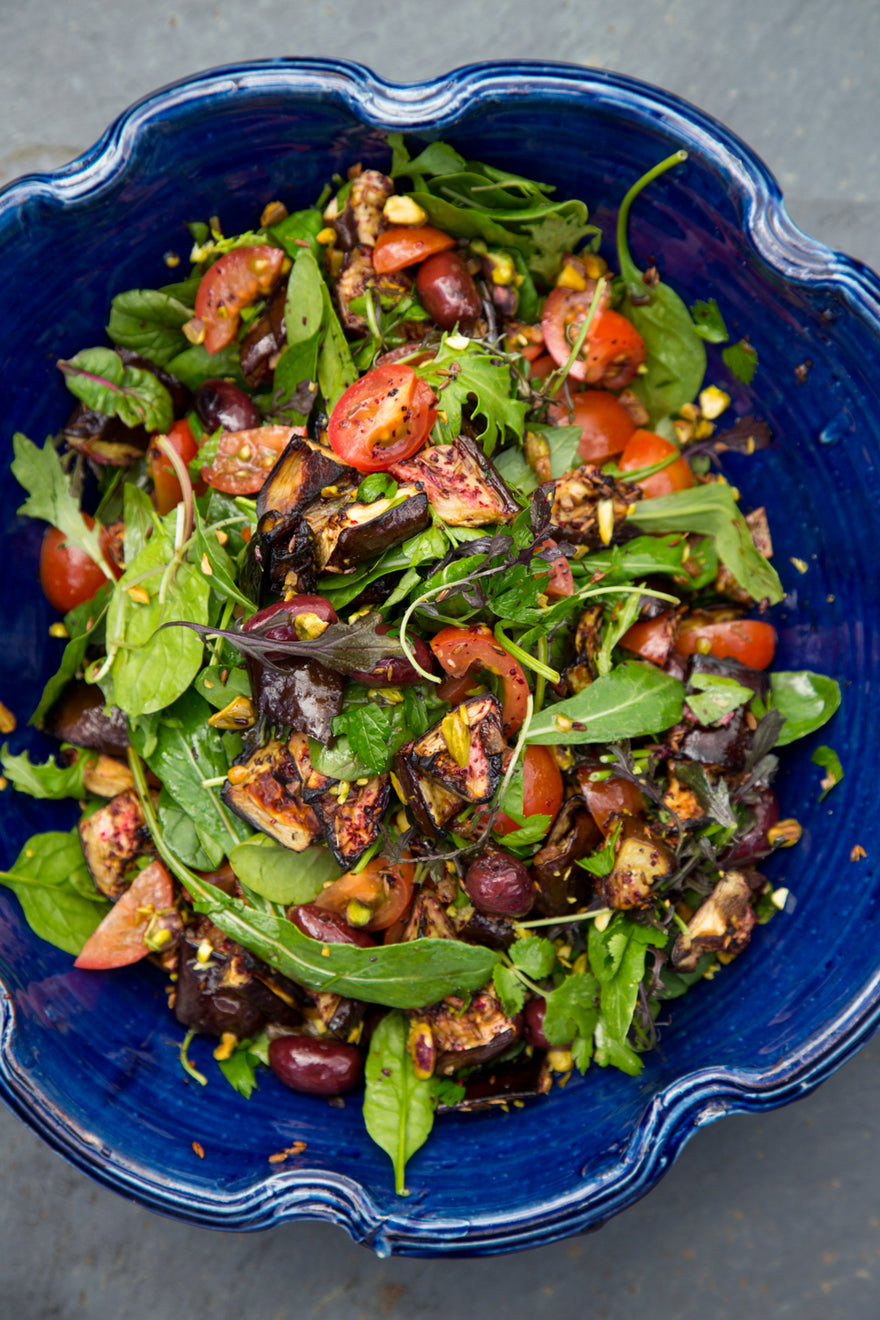 ALMIGHTY EGGPLANT WITH SUMAC 
A delightful Middle Eastern salad of eggplant roasted in sumac, cumin, olives, tomatoes and pistachios.
(vegan, df, gf)
Serves 6 
3 tbsp
OLIVE OIL
2
EGGPLANTS
cut into large 4cm chunks
1 tbsp
SUMAC
2 tsp
CUMIN SEEDS
1 tsp
SALT
and freshly
GROUND BLACK PEPPER
1
PRESERVED LEMON
, skin only (flesh removed), finely diced
½ cup (80g)
KALAMATA OLIVES
200g
CHERRY TOMATOES
, quartered
½ cup (20g)
FRESH ITALIAN PARSLEY
, roughly chopped
3 cups (120g)
ROCKET
or
SALAD MIX
¼ cup (40g)
ROASTED SALTED PISTACHIOS
, roughly chopped 
BALSAMIC DRESSING
3 tbsp
BALSAMIC VINEGAR
1 tsp
SUMAC
2 tbsp
OLIVE OIL
2 tbsp
MAPLE SYRUP
or
HONEY
Preheat oven to 200°C.
Line a large baking tray with baking paper. 
Pour ½ of the olive oil onto the prepared tray and add the eggplant, sprinkle over the sumac, cumin, salt and pepper. Drizzle the remaining oil over and turn to coat the eggplant in the spices. 
Place in the oven to roast for 20 minutes, then add the preserved lemon and olives to the tray and cook for a further 5 -10 minutes, or until the eggplant is well roasted.  Remove from the oven and set aside to cool. 
To prepare the dressing
:
in a small jar whisk all the ingredients together. 
To serve
:
place the roasted eggplant, preserved lemon, olives, tomatoes, and parsley in a large serving bowl. Add the dressing and mix until well combined. Gently mix through the rocket or salad mix and sprinkle the pistachios over the top. 
---