AFRICAN CHICKEN AND PEANUT STEW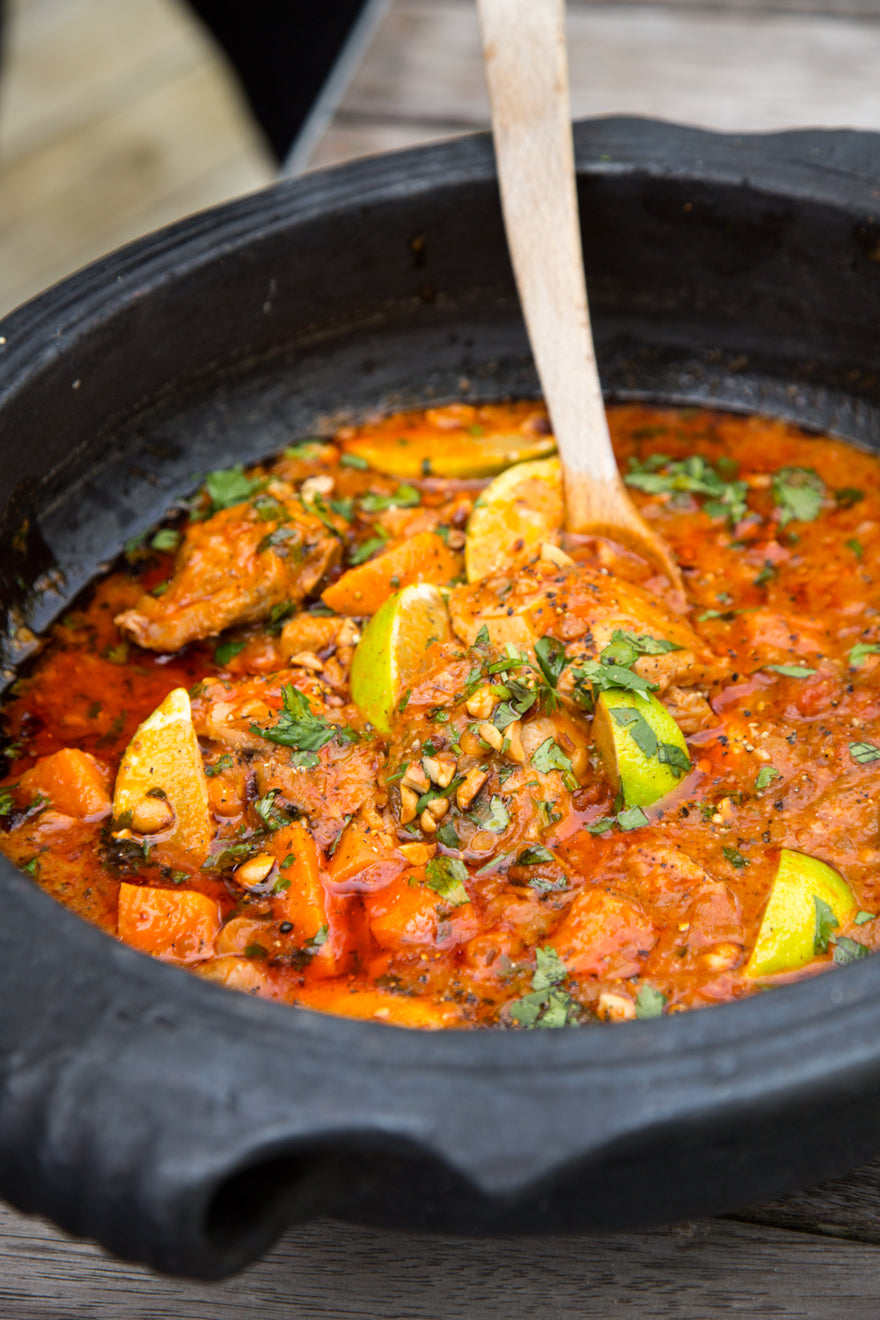 AFRICAN CHICKEN AND PEANUT STEW
Winter comfort is the perfect way to describe this stew, warming and hearty with the option of a little heat too. For a vegetarian or vegan version swap, the chicken meat for a large eggplant roughly diced.
(gf, df)
Serves 4 to 6
¼ cup (60ml) PEANUT OIL or VEGETABLE OIL
600g boneless and skinless CHICKEN THIGHS, roughly chopped
2 ONIONS, peeled, roughly chopped
5 cloves GARLIC, peeled, lightly smashed
2 tsp PAPRIKA
2 tsp CUMIN SEEDS, toasted, ground
2 tsp CORIANDER SEEDS, toasted, ground
2 tsp FRESH GINGER, finely chopped
1 tsp CHILLI FLAKES (optional - if you like it hot add more)
1 tbsp FRESH THYME, finely chopped, or 1 tsp DRIED THYME
1 tbsp FRESH OREGANO, finely chopped or 1 tsp DRIED OREGANO
750ml CHICKEN STOCK or WATER
5 tbsp good quality CRUNCHY PEANUT BUTTER
1 x 400g can DICED TOMATOES or 5 large FRESH TOMATOES, diced
500g KUMARA or PUMPKIN, peeled, roughly chopped
1 tsp SALT and freshly GROUND BLACK PEPPER
GARNISH
¼ cup (10g) FRESH CORIANDER, chopped
¼ cup (35g) ROASTED SALTED PEANUTS, roughly chopped
1 LIME, cut into wedges
Preheat oven to 180°C.
Place a large flameproof casserole dish over a medium heat and add the oil. When hot add the chicken, onions and garlic. Cook for a few minutes, stirring constantly until the onions and chicken is lightly browned. Stir through the spices, chilli and herbs, cook for a few seconds.
Add the stock or water, peanut butter, tomato, kumara or pumpkin, salt and pepper. Bring to a gentle simmer and cook for 10 minutes. Cover the casserole dish with a tight-fitting lid and place in the oven to cook for 30 minutes. Remove from the oven and adjust seasoning to taste.
To serve:
top with the fresh coriander and chopped peanuts. Serve with lime wedges on the side. This stew is great served with brown rice or warm chapattis.
---