Mexican Bouncing Beans & Guac Salad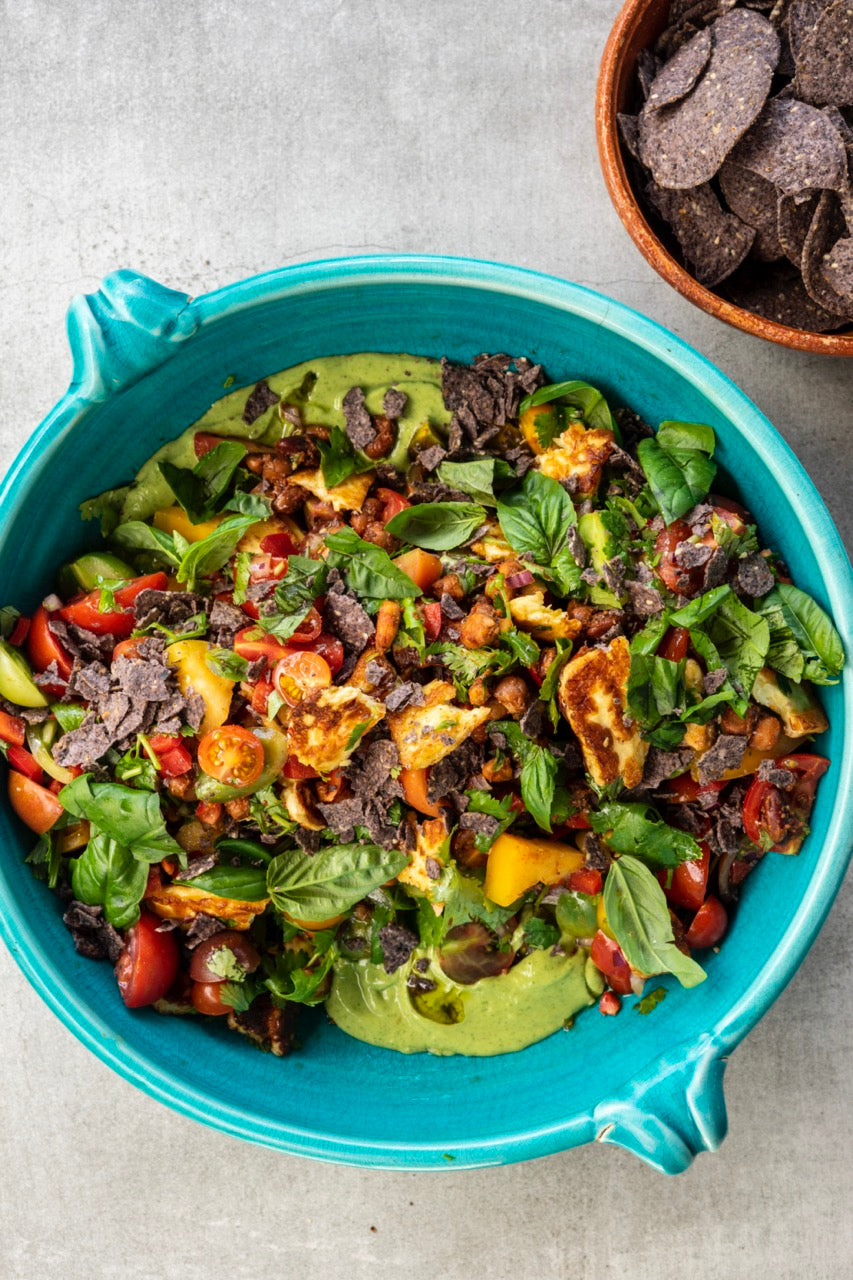 HOLY GUACAMOLE DRESSING
1 large AVOCADO
2 tbsp FRESH LIME JUICE
1 clove GARLIC, peeled, crushed and very finely chopped
3 tbsp OLIVE OIL
½ cup (125ml) WATER
1 GREEN CHILLI, deseeded or 1 – 2 tsp of your favourite HOT SAUCE
½ cup (20g) CORIANDER, roughly chopped
SALT and freshly GROUND BLACK PEPPER
SALAD
4 tbsp OLIVE OIL
120g HALLOUMI, sliced
2 x 400g cans of MIXED BEANS or BLACK BEANS, drained and rinsed
1 – 2 tbsp of your favourite MEXICAN HOT SAUCE (we use a Smokey Chipotle Sauce) 2 tsp SMOKEY PAPRIKA
1 tsp GROUND CUMIN
600g TOMATOES (we use a mixture of colours and types), chopped (see note below) 2 CAPSICUMS, deseeded and diced
¼ RED ONION, peeled and finely diced
½ cup (20g) FRESH CORIANDER, leaves and stems chopped
SALT and freshly GROUND BLACK PEPPER
A small bunch of BASIL LEAVES, torn
1 x 200g CORN CHIPS (we use blue corn chips)
To prepare the dressing: place all the ingredients in a jug and blend well using a handheld stick blender. Season to taste with salt and freshly ground black pepper.
To cook the halloumi: place a large frying pan over a medium heat, add 1 tbsp of the oil. When hot, fry the halloumi until it is golden and crispy. Remove from the heat and set aside.
To cook the beans: place the pan back on the heat and add the remaining oil. Add the mixed beans, hot sauce, paprika and cumin, and fry for a few minutes. Remove from the heat and transfer into a large mixing bowl.
To prepare the salad: chop the tomatoes. Note: you want some tomatoes like big beefsteak tomatoes to be chunky, the smaller vine tomatoes cut into quarters and the cherry tomatoes cut in half. Add the tomatoes, capsicums, red onion and coriander to the beans. Mix well and season to taste. Add more hot sauce now if it needs a bit more kick. Gently toss through the halloumi.
To serve: place the salad on a large serving platter, dollop over some of the Holy Guacamole Dressing, top with the basil leaves and some of the corn chips lightly crushed. Serve the rest of the corn chips and dressing on the side.
---