Spiced Banana Loaves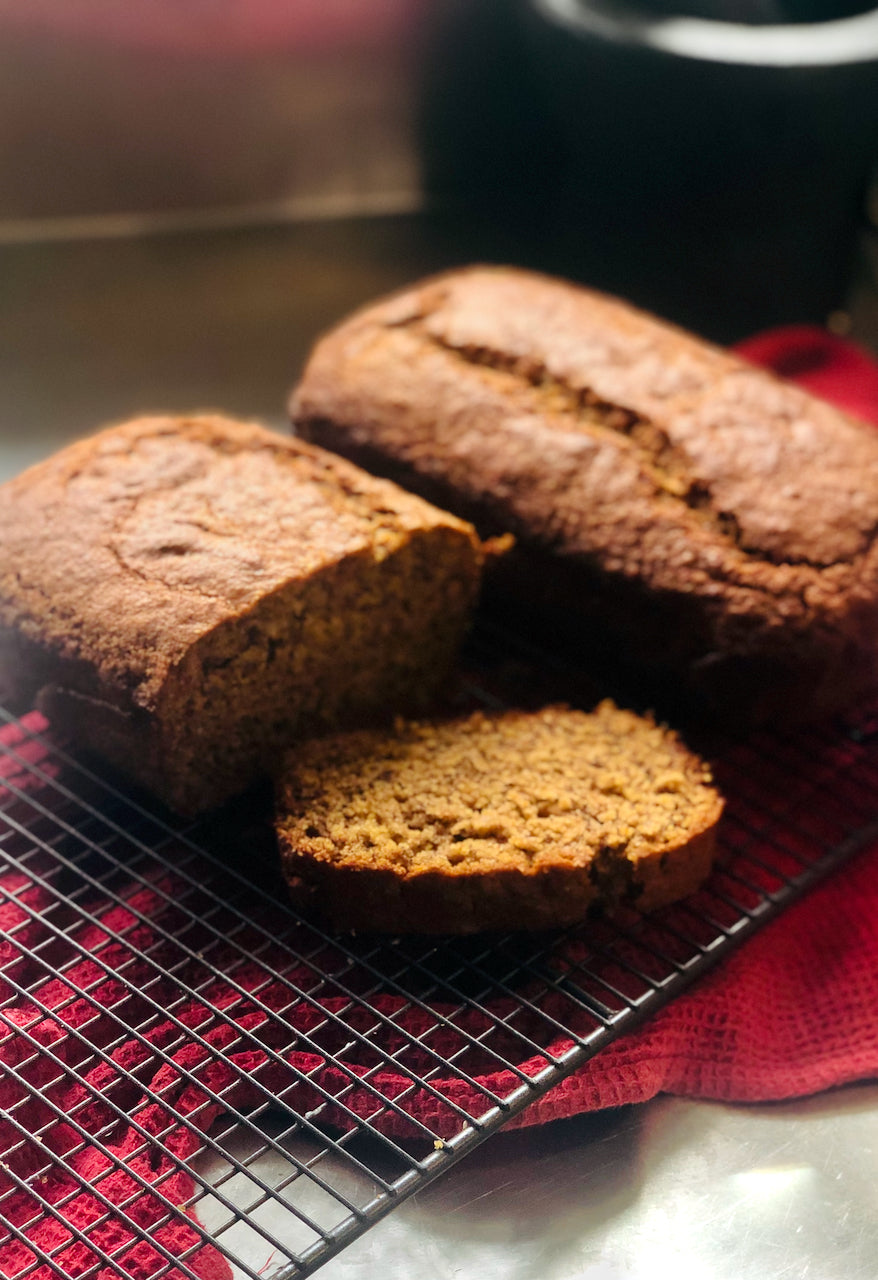 SPICED BANANA LOAVES
This is a super easy recipe that is a fantastic way to use up old over ripe bananas (it doesn't seem to matter how may you add - the more the better). The wholemeal flour & wheat germ gives the loaves some great fiber & nutrients, bran would work well too.
makes 2 loaves 
INGREDIENTS
3 large (size 7 or 8) EGGS (or 4 small eggs, eg size 6)
1 cup (250ml) RICE BRAN OIL
¾ cup (120g) soft BROWN SUGAR
¾ cup (170g) CASTER SUGAR
2 tsp VANILLA EXTRACT
1 cup (150g) SELF-RAISING FLOUR
1 cup (150g) WHOLEMEAL FLOUR
1/2 cup (50g) WHEAT GERM (or BRAN FLAKES)
1 tsp CINNAMON
1 tsp GROUND GINGER
1 tsp MIXED SPICE
1 tsp BAKING SODA
A pinch of SALT
3 large RIPE BANANAS (or 5 Bobby Bananas)
Preheat the oven to 170°C on fan-bake.
Grease & line two loaf tins with baking paper.
 
In a mixing bowl, mash the bananas, then add the eggs, oil, sugars & vanilla, whisk together until well combined. 
 
In another mixing bowl whisk together all the dry ingredients. Make a well in the middle of the dry mix. Pour in the wet mixture & mix until well combined.
 
Divide the batter between the tins. Bake for 35 - 45 minutes or until a skewer inserted into the middle come out clean. Remove the loaves from the oven & leave to cool in the tin for 5 minutes before turning out onto a wire rack.
---